DadCopy
Description:
It copy files from one folder to another (e.g. from digital camera). Program automaticly add date to name of folder, this makes easer to search images.
What did I use:
- pliki ini [wer. 1.1.0.7]
* zapisywanie i odczytywanie danych z WIN API (GetPrivateProfileString, WritePrivateProfileString)
- kopiowanie plików [wer. ?]
* wykorzystanie WIN API (SHFileOperation)
- dowolne tworzenie daty [wer. ?]
* użyłem standardowych funkcji VB (Year, Month, Day)

History:
[10-09-04] version 1.1.13

Fixed few bugs in ini files.
[09-08-03] version 1.1.0.7

Pierwotnie program miał służyć mojemu tacie do kopiowania zdjęć z aparatu cyfrowego do dokumentów. Dzisiaj wzbogaciłem go w możliwość zmiany ścieżki źródła i celu.

To do:
- hmm ...

Files:
[09-08-03] version 1.1.0.7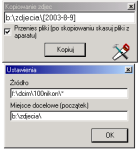 Source
Binary
[09-08-03] version 1.1.0.7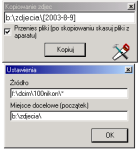 Source
Binary